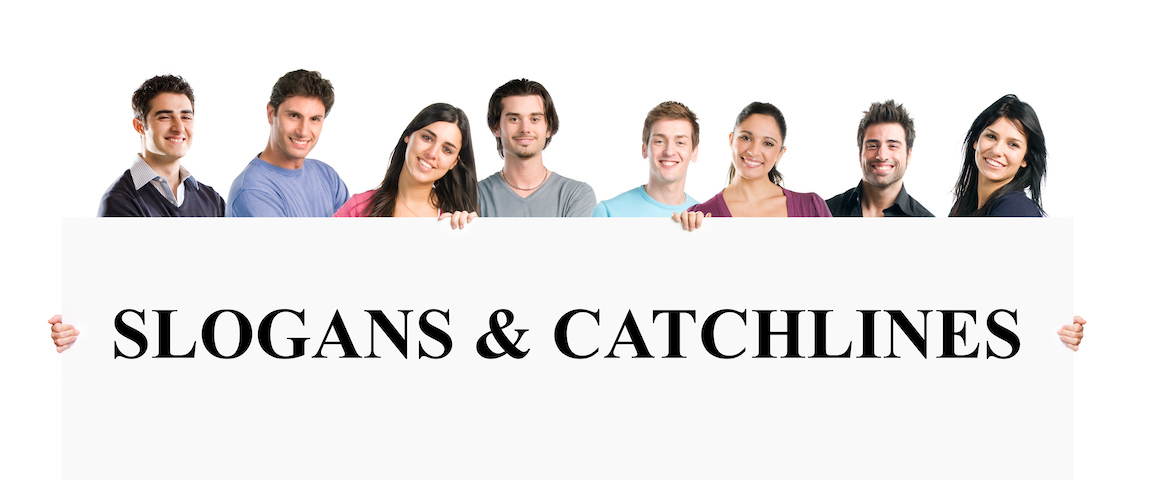 A catchy and creative slogan can become synonymous with your business or organization. Let Ace Writing and Media Services come up with some examples that best sum up your business. A company slogan is simply a brief phrase that is closely allied with a company name or brand. It can appear in a range of media including websites, stationery, printed marketing material, advertising campaigns and so on.
Often, the slogan appears in close proximity with the company name and/or logo and in some cases, it can be incorporated into the logo so that logo graphic and phrase form a single visual unit. However, you can also use a separate 'catchline' in each of your sales and marketing processes too. Change them frequently if you wish. If you use a particular catchline with one sales or promotional campaign, simply create another and sell or promote your next product or service under that one.
Slogan V Catchline
A catchline can be associated with a particular product, service or marketing campaign whereas a slogan is associated with a company or a brand. Some marketers express this distinction as 'product catchline' vs 'company slogan'. So you can have several slogans or product catchlines, but only one company slogan. Your catchlines are likely to change more often than your company slogan. This is a key part of building equity in a brand long-term. Every company slogan should be different. Let Ace Writing and Media Services make the difference with quality slogans and catchlines for you and your company or organization.
Rhyming Slogans and Catchlines
You can dare to be different too as here at Ace Writing and Media Services we are experts at creating unique rhyming slogans or catchlines for your business or product or service. A rhyming slogan or catchline always brings a smile to readers' faces. Like a catchy slogan or catchline, a rhyming slogan or catchline simply demonstrates that your business or organization exudes additional uniqueness, flair and creativity. To sum up – "A slogan well read means there's business ahead"…!